Over at Comics for Sinners you'll find my review of Skull Island: The Birth of Kong #1, now on sale from Legendary Comics. Written by Arvid Nelson (Rex Mundi, Warlord of Mars: Dejah Thoris) and illustrated by Mohammad Yazid (Son of Merlin), it's both a sequel and a prequel to the recent box office smash Kong: Skull Island, and provides an origin story for Kong while at the same time expanding on the "MonsterVerse" that Legendary started building with their 2014 Godzilla reboot. Head over to C4S to find out more.
Speaking of the king of Skull Island, are you aware that just last month StarWarp Concepts published King Kong, the 1932 novelization of the original monster movie, as the latest title in our Illustrated Classics line? No? Then allow me to explain…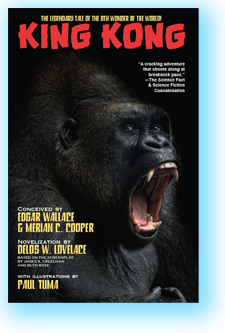 Written by Delos W. Lovelace, based on the story by Edgar Wallace and Merian C. Cooper and the screenplay by James A. Creelman and Ruth Rose, King Kong features scenes that didn't appear in the final cut of the film—including the notorious "spider pit" sequence in which Kong's human pursuers are attacked by horrific arachnids and insects. What makes our version special is that it contains six exclusive, original black-and-white illustrations by comics artist Paul Tuma, whose pulp-influenced style has appeared in the pages of The Twilight Avenger, Flare, and Dan Turner: Hollywood Detective.
Not familiar with the beauty-and-the-beast story of Kong and his "love interest," Ann Darrow (who was played in the 1933 original by the queen of the scream queens, Fay Wray)? Well, here's our edition's back-cover copy to bring you up-to-date:
Ann Darrow was a down-on-her-luck actress struggling to survive in Depression-era New York when she met moviemaker Carl Denham. He offered her the starring role in his latest film: a documentary about a long-lost island—and the godlike ape named Kong rumored to live there. Denham needed a beauty as a counterpart to the beast he hoped to find, and Ann was the answer to his prayers.
Mystery, romance, a chance to turn her life around, even the possibility of stardom—to Ann, it sounded like the adventure of a lifetime! But what she didn't count on were the horrific dangers that awaited her on Skull Island—including the affections of a love-struck monster . . .
King Kong (the SWC edition) is available right now for download, so visit its product page for ordering information.