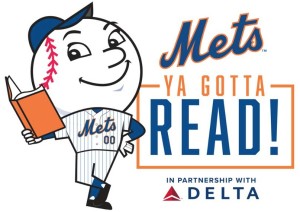 Well, here's the sort of literacy program our resident teenaged monster hunter, Pandora Zwieback, can totally get behind—especially since it involves her favorite baseball team!
A partnership between the New York Mets and Delta Air Lines, Ya Gotta Read (a playful twist on the old Mets saying, "Ya Gotta Believe!") is, according to the press release:
…a program to help foster a love of reading in students. More than 5,000 students at nine elementary schools in Queens are participating in the program. The goal is for students to read one book a week for a total of six books. Students will write a book review for each book and hand it in to their teachers. The more books students read, the more prizes they will earn!
The student from each school that reads the most books will be awarded four field level tickets a Mets game at Citi Field and be invited participate in an on-field pregame ceremony. The student who reads the most books in the overall program will win four Delta Club tickets behind home plate.
The class that reads the most books will win a visit by a Mets player and Mr. Met and memberships to Mr. Met's Kids Club. The top class from each school will receive additional Mets premium merchandise.
Ya Gotta Read runs from February 12 (the start of Mets spring training) to March 23. For more information, and to follow the schools' progress, visit the Ya Gotta Read page at the Mets website.