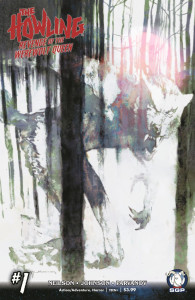 Welcome back to 'Warped Week, a recap of what we've been up to at 'Warp Central during the past seven days. If you missed anything, now's the perfect time to catch up!
On Monday, I let you know that my latest comic-book review had been posted at the site Comics for Sinners. The Howling: Revenge of the Werewolf Queen #1 is a Space Goat Publishing miniseries sequel to the great 1981 werewolf movie from director Joe Dante (Gremlins) that picks up the story of Marsha Quist—the female werewolf memorably played by actress Elisabeth Brooks—who's on the hunt for a mystical relic. Based on what we've seen at C4S's Facebook page, the review is especially popular with Space Goat employees—they've been sharing it with all their followers!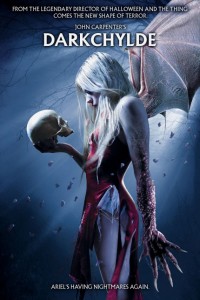 On Wednesday, yet another article of mine—but not a review—appeared at Comics for Sinners. This one, the latest edition of my "It Came from the Bad-Girl Archives" series, examined the announced-but-never-filmed John Carpenter's Darkchylde, a proposed movie adaptation of the 1990s bad-girl comic by creator/writer/artist Randy Queen about a teenaged girl who discovers she can turn into a demon. At the outset, the notion of the acclaimed director teaming up with effects company Weta Workshop (of Lord of the Rings movie fame) sounded like a good idea, but considering the fact Carpenter hasn't directed a movie since 2010, it's a good bet it's a dead project. Head over to C4S to read the whole story.
On Thursday, we made you aware of a New York Times article about a King Kong musical set to debut on Broadway in the fall of 2018. That, naturally, gave us an opportunity to throw in a plug for our King Kong Illustrated Classic e-book, which reprints the Delos W. Lovelace novelization of the original Kong movie from 1933—a novelization that also serves as the basis for the musical!
Friday was the U.S. debut of Alien: Covenant, the latest entry in the popular sci-fi movie franchise that started with 1979's SF/horror masterpiece Alien. And so, as long as the topic of aliens and humans clashing on another world was up for discussion, we thought it was a good time to remind everyone about our Illustrated Classic A Princess of Mars, by Edgar Rice Burroughs. It's about a man from Earth who suddenly finds himself on the Red Planet fighting for his life—and for the love of a Martian princess. Maybe Princess doesn't have face-huggers and xenomorphs, but it does have seven-foot-tall, green-skinned Martian warriors carrying swords—close enough, right?
And that's the week. What's coming next? You'll have to keep checking this blog during the days ahead—or join us on Sunday for the next installment of 'Warped Week. See you then!