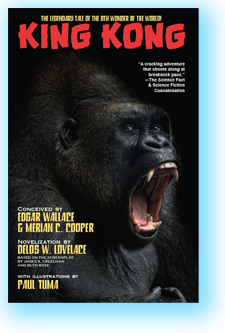 Welcome back to Hail to the King (Kong), a series of posts that'll pop up here and there that focus on merchandise and other things that relate to the giant gorilla who's captured the hearts of monster-movie fans since his debut in 1933. It's part of our promotion for the latest addition to our Illustrated Classics library: the e-book-exclusive edition of the 1932 novelization of King Kong, which is on sale right now.
Written by Delos W. Lovelace, based on the story by Edgar Wallace and Merian C. Cooper and the screenplay by James A. Creelman and Ruth Rose, it features scenes that didn't appear in the final cut of the film—including the notorious "spider pit" sequence in which Kong's human pursuers are attacked by horrific arachnids and insects. What makes our version special is that it contains six exclusive, original black-and-white illustrations by comics artist Paul Tuma, whose pulp-influenced style has appeared in the pages of The Twilight Avenger, The Green Hornet, and Dan Turner: Hollywood Detective.
Today we're looking at Kong's career as a cover model, specifically for the legendary horror magazine Famous Monsters of Filmland. Created in the 1950s by editor, genre fan, agent, and "Ackermonster" Forrest J Ackerman (who also created Vampirella), Famous Monsters was the lifeline that horror, sci-fi, and monster fans clung to for information and camaraderie in a world long before the arrival of the Internet. Much of its editorial focus was on films of the past, like the original King Kong, which allowed generations of fans to better understand the incredible histories of their favorite genres while also preserving the memories of classic films that might have faded into obscurity.
In this gallery (click on each image to embiggen, as they say), you'll find:
FM #6: February 1960; cover art by Albert Nuetzell
FM #25: October 1963
FM #44: May 1967; cover art by Dan Atkins
FM #108: July 1974; cover art by Basil Gogos
FM #125: May 1976; cover art by John Berkey—detail from the Kong 1976 teaser movie poster
FM #132: March 1977; cover art by Basil Gogos
FM #267: April 2013; cover art by Jason Edmiston
Famous Monsters' original run ended in 1983 and was revived by another publisher in 1993. One libel suit filed by Forry, a bankruptcy, and a change of publishers later, FM still exists today, but only as a company brand; its final print issue was #288 (October 2016), although long before then the current owners had decided to turn FM into a quarterly-but-maybe-annual magazine that focused on horror art. The true FM might have been killed by an art mag—yet one more example of beauty killing the beast!—but Forry Ackerman and his creation will always live on in the memories of monster fans.
King Kong (the SWC edition) is available right now for download, so visit its product page for ordering information.