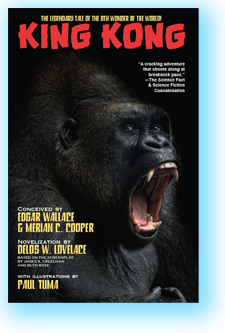 Welcome to the debut of Hail to the King (Kong), a series of posts that'll pop up here and there that focus on merchandise and other things that relate to the giant gorilla who's captured the hearts of monster-movie fans since his debut in 1933.
If you've visited this blog since the start of the year, you know why we're covering this topic: as a way to help promote King Kong, an e-book exclusive that reintroduces monster fans to the 1932 novelization of the original movie classic. Written by Delos W. Lovelace, based on the story by Edgar Wallace and Merian C. Cooper and the screenplay by James A. Creelman and Ruth Rose, it includes scenes that didn't appear in the final cut of the film—including the notorious "spider pit" sequence in which Kong's human pursuers are attacked by horrific arachnids and insects. Our version features six original black-and-white illustrations by comics artist Paul Tuma, whose pulp-influenced style has appeared in the pages of The Twilight Avenger, Flare, and Dan Turner: Hollywood Detective.
Not familiar with the story of the king of the monsters and the woman with whom he falls in love, resulting in one of the strangest "beauty and the beast" stories of all time? Then allow me to present you with our edition's back-cover copy:
Ann Darrow was a down-on-her-luck actress struggling to survive in Depression-era New York City when she met moviemaker Carl Denham. He offered her the starring role in his latest film: a documentary about a long-lost island—and the godlike ape named Kong rumored to live there. Denham needed a beauty as a counterpart to the beast he hoped to find, and Ann was the answer to his prayers.
Mystery, romance, a chance to turn her life around, even the possibility of stardom—to Ann, it sounded like the adventure of a lifetime! But what she didn't count on were the horrific dangers that awaited her on Skull Island—including the affections of a love-struck monster . . .
Originally published in 1932, this fast-paced novelization includes scenes that never appeared in the final version of the classic 1933 film—the most famous of them being the gruesome Skull Island "spider pit" sequence, in which hordes of monstrous arachnids attempt to devour Ann's rescuers!
To kick off this series, how about a look at a trio of classic King Kong lobby cards that were distributed to movie theaters?
What's a lobby card, you ask? Well, that's a natural question, since they're not in much use anymore as a promotional device, so let's turn to Wikipedia for an answer:
Lobby cards are similar to posters but smaller, usually 11 in × 14 in (28 cm × 36 cm), also 8 in × 10 in (20 cm × 25 cm) before 1930. Typically issued in sets of eight, each featuring a different scene from the film. In unusual circumstances, some releases were promoted with larger (12 cards) or smaller sets (6 cards).
All clear? Great! Then let's check out some Kong lobby cards!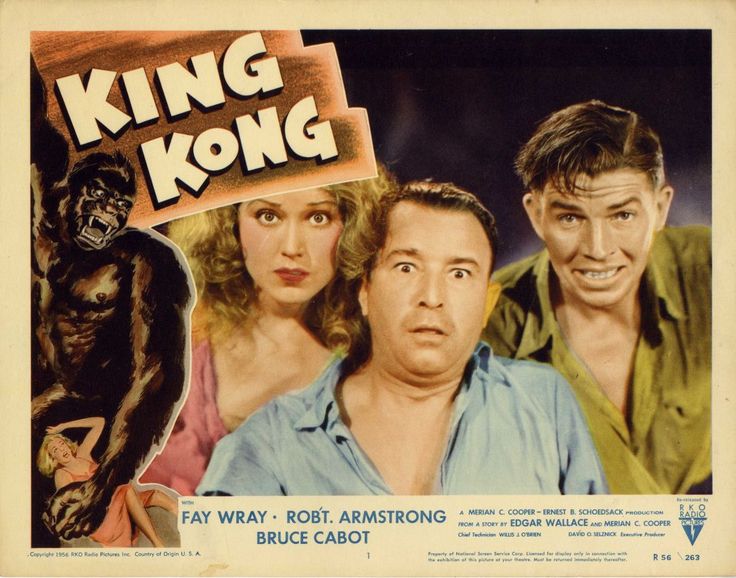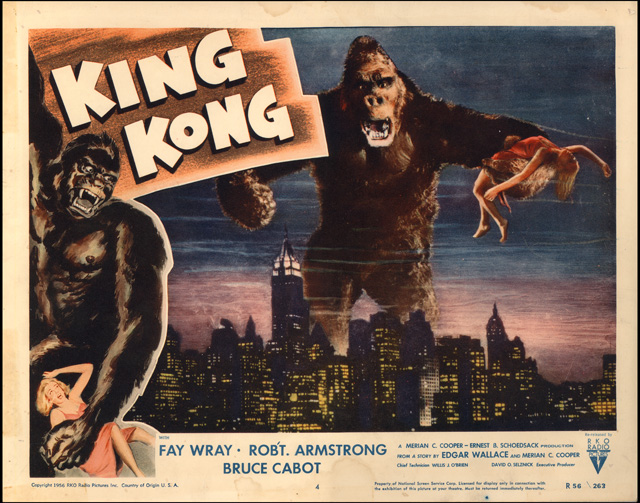 King Kong (the SWC edition) is available right now for download, so visit its product page for ordering information.