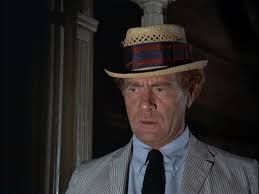 On January 11, 2017, I saluted the 45th anniversary of The Night Stalker, a 1972 made-for TV vampire movie that introduced horror fans to Carl Kolchak, a down-on-his-luck newspaper reporter in Las Vegas, Nevada, who starts out investigating a string of bizarre homicides and eventually finds himself battling a vampire. Kolchak was played by veteran character actor Darren McGavin (The Martian Chronicles, A Christmas Story), and the movie was written by Richard Matheson (based on the at-the-time unpublished novel by Jeff Rice), produced by Dan Curtis (Dark Shadows, Trilogy of Terror), and directed by John Llewellyn Moxey (Horror Hotel).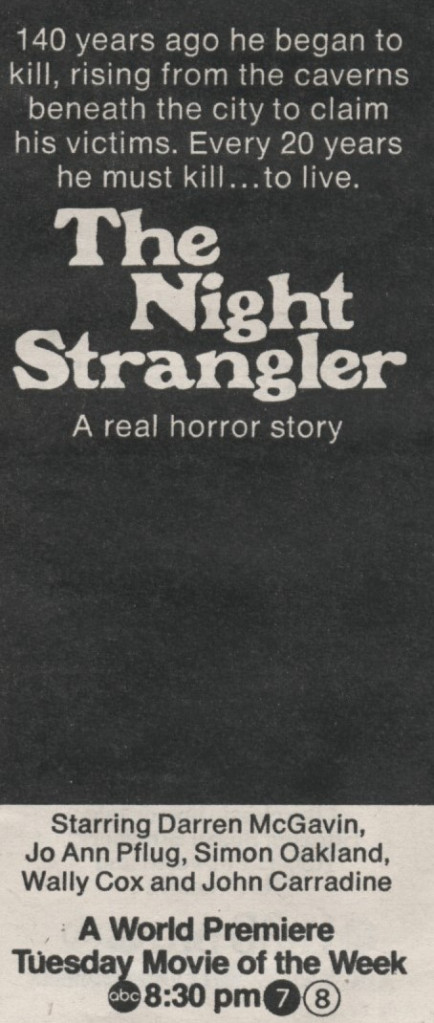 The Night Stalker received the highest ratings of any TV movie at the time, and led to its network, ABC-TV, immediately green-lighting a sequel: The Night Strangler, which made its broadcast debut 45 years ago on this very day!
In this original screenplay by Matheson, Kolchak—who'd been run out of Vegas after his involvement in the vampire murders—winds up in Seattle, Washington, and bumps into his former boss, newspaper editor Tony Vincenzo (played so memorably by Simon Oakland), who'd also been chased out of Sin City because of his connection to Kolchak and has landed at the Seattle Daily Chronicle. It doesn't take Carl long to get mixed up in another monster hunt, this one involving an immortal serial killer who's hiding in the underground passages of old Seattle.
Joining McGavin and Oakland is Richard Anderson as the murderous Dr. Richard Malcolm—longtime TV fans should recognize him for his most famous role as Oscar Goldman, Steve Austin's boss in The Six Million Dollar Man (and not to be confused with Richard Dean Anderson of MacGyver and Stargate SG1)—along with Jo Ann Pflug (The Fall Guy; the voice of the Invisible Girl in the 1960s Fantastic Four cartoon series); veteran character actors Wally Cox (the voice of the original Underdog) and Margaret Hamilton (the Wicked Witch of the West in The Wizard of Oz); Al Lewis—Grandpa from The Munsters—in a cameo role as a drunk; and horror legend John Carradine.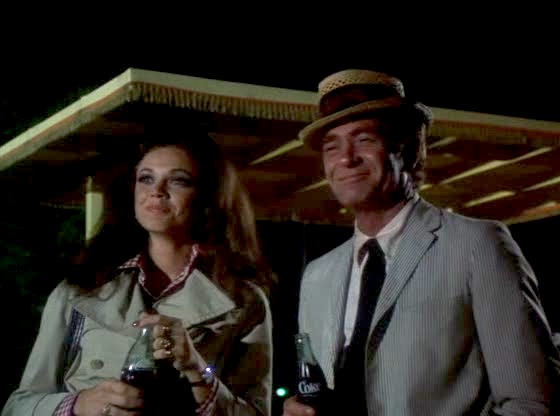 Beyond the change in location it's practically a remake of The Night Stalker—an intentional approach as producer/director Dan Curtis explains in "Directing the Night Strangler," a featurette on the Night Stalker/Night Strangler MGM Double Feature DVD, released in 2004. "And I said, 'What we gotta do, Dick, is it's gotta be, y'know, a sequel, but at the same time it's gotta be, like, the same movie. We gotta get that same feeling.'"
And that's exactly what Matheson delivered. Just as in The Night Stalker, Kolchak runs afoul of both the monster and the police as he pursues a story. No one, especially Vincenzo, believes him except his romantic interest who lives on the fringes of society—in The Night Stalker, Gail Foster (Carol Lynley) is a prostitute in a casino; in The Night Strangler, Pflug's Louise Harper is a belly dancer who performs in a seedy club. And in the finale he unwisely confronts the killer on his own, driven by his need to get an exclusive on the story and almost paying for it with his life. And all of it's driven by composer Robert Cobert's fantastic score that liberally borrows themes from The Night Stalker.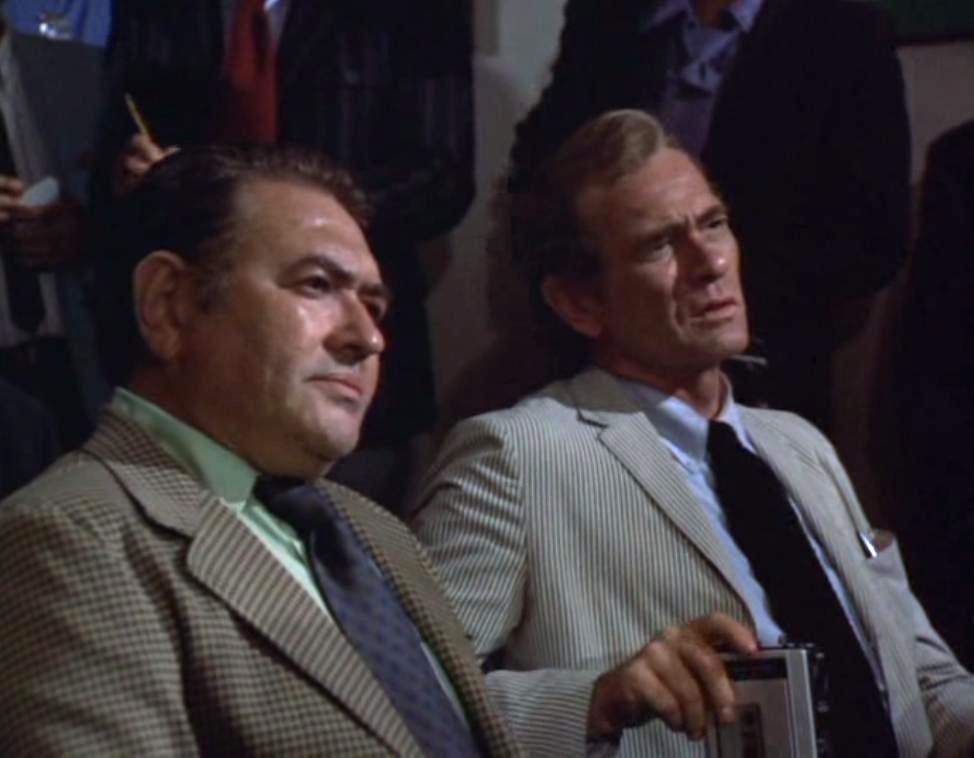 Still, McGavin carries the movie through his powerful, take-no-bullshit performance as Kolchak—a performance matched only by Oakland, whose Vincenzo is the only person on the planet strong enough to match the volume of his agita-inducing reporter in the many shouting matches they have. Seeing them go at it is reason enough to watch the picture, but as an added bonus, this time we even get a talking monster. In The Night Stalker, the only thing that vampire Janos Skorzeny did was hiss and growl; here, Anderson's Dr. Malcolm is a soft-spoken, highly educated villain—utterly insane, yes, but at least he can hold a conversation. And despite the numerous murders Malcolm has racked up, Anderson even manages to make the viewer feel some pity for him when Kolchak literally shatters his plans to go on living.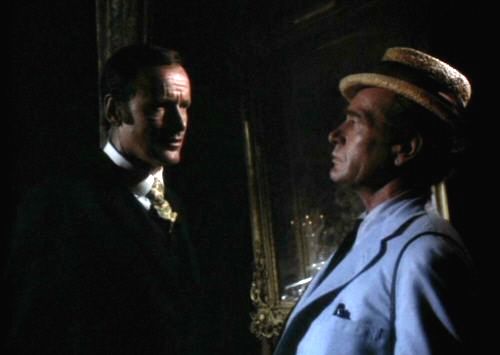 While it didn't do quite as well in the ratings as its predecessor, The Night Strangler drew in enough viewers that the executives at ABC-TV first considered a third film—The Night Killers, by Matheson and William F. Nolan, about politicians being replaced with android duplicates by alien invaders—but then decided to commit to a TV series instead: Kolchak: The Night Stalker. A good thing, too, because McGavin, who'd become extremely protective of how Kolchak was handled, hated the Killers script—his official website remarks that "there is scant originality in the movie, and if it had been filmed, it's doubtful a series would have followed." Besides that, I think Kolchak mowing down the robots with a machine gun in front of cops to reveal their true identity is not just overkill but could be considered a great misunderstanding of the character…
Bottom line? If you haven't seen The Night Strangler before, do yourself a favor and check it out. Better yet, make it a double-feature viewing of it and its predecessor—a double dose of Kolchak is always a good thing!
So, happy anniversary, Carl—again!