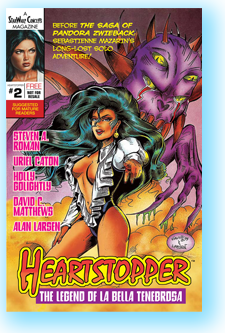 "I most definitely enjoyed the look of Heartstopper. That costume is ridiculously awesome."
– Comic Bastards

Continuing a rare look into the comic-book past of monster hunter Sebastienne Mazarin, long before The Saga of Pandora Zwieback!
The heavy metal band Hellfire arrives in New York, and lead singer (not to mention deadly incubus) Corum de Sade has big, ominous plans for their first televised concert. While preparations begin, de Sade decides to relax with a visit to a local gentlemen's club—where freelance writer (and part-time monster hunter) Sebastienne Mazarin just happens to be working as an exotic dancer as research for a magazine article…
Featuring pencil art by Pan and Annie's co-creator, Uriel Caton (JSA Annual #1), along with Holly Golightly (Sabrina, the Teenage Witch) and David C. Matthews (Lorelei).