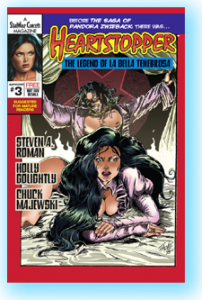 "Wow! Breathtaking art and characterization! Heartstopper meets her match in the form of a handsome incubus and his demon driver. Terrific storytelling, powerful dialogue, great body language, camera angles, pacing. A well-conceived and executed comic book. Recommended."
—Small Press Creative Explosion

A final look into the comic-book past of monster hunter Sebastienne Mazarin, long before her supporting role in the young adult novel series The Saga of Pandora Zwieback. Annie meets the heavy metal singer and soul-stealing incubus called Corum de Sade. Will she put a stop to his mysterious plans—or fall under his seductive spell?
Featuring pencil art by Holly Golightly (Sabrina, the Teenage Witch) and inks by "Chainsaw" Chuck Majewski (Harvey Kurtzman's New Two-Fisted Tales) this issue—originally scheduled for publication by Millennium Publications in 1995—never saw print and is presented here for the first time anywhere.
Also included: never-before-seen art from Heartstopper/Trollords, a proposed crossover special that would have involved Annie meeting a trio of knuckleheaded trolls who are advising her greatest admirer—Death himself—on the finer points of wooing a shape-shifting femme fatale! Pencils by Trollords co-creator Scott Beaderstadt, with inks by Bill Lavin (Troubleshooters, Incorporated: Night Stalkings).