Saturday. The day every exhibitor both fears and looks forward to. The day when the full strength of fandom is unleashed and the aisles are filled to overflowing with cosplayers, booth babes, budding artists and writers, and collectors. Remember the 116,000 attendees that were estimated for the show, as I mentioned back on the Day 0 write-up? This is the day when it feels like all of them have arrived.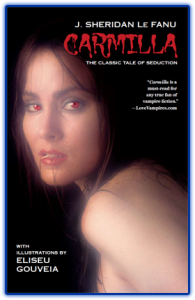 By the time Rich, Dave, and I reached The 'Warp booth at ten o'clock, the show was once again in full swing and before you knew it I was pitching The 'Warp's wares to everyone who stopped by. Next to the first Pandora Zwieback novel, Blood Feud, our illustrated classic Carmilla drew quite a bit of attention, especially when I explained it predated Dracula and was an influence on Bram Stoker (where do you think the idea for the count's vampire brides came from?). What sealed the deal every time was when I flipped through the book to show off the fantastic illustrations by Pandora Zwieback and Lorelei: Sects and the City artist Eliseu Gouveia.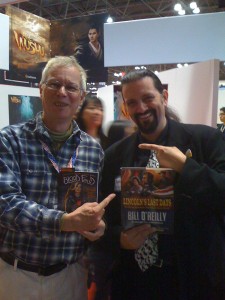 Then our first pro visitor of the day stopped by: Dwight Jon Zimmerman, former editor and comics writer, now bestselling historian with a bunch of hit books to his credit. Dwight and I used to work together as editors, back in the days of ibooks, inc.; he was even my editor on my X-Men: The Chaos Engine novels. Dwight was set up over in Artists Alley (located in a separate part of the Javits Center, quite a distance from the main show floor), promoting his most recent release: Lincoln's Last Days, an adaptation for younger readers of TV host Bill O'Reilly's bestselling biography, Killing Lincoln. We traded books; I signed Blood Feud: To Dwight, It ain't Lincoln, but it does have vampires!
There were other friends who visited (though I didn't have a camera at the ready), sometimes while I was juggling conversations with new potential Pan-atics. So an apology and a shout-out to: Uriel Caton, Pan and Annie's co-creator (you'll get your chance to draw Annie again, I swear!); Grey, former comics artist and now gallery owner; and Mike Sargent, host of WBAI radio's Niteshift.
Welcome to Gothopolis
"So, what's this about?" the woman asked, pointing to the Pandora Zwieback banner. I gave her my slightly updated pitch ("Sixteen-year-old Goth who can see monsters but has been diagnosed as a paranoid schizophrenic for the last ten years, teams up with a 400-year-old shape-shifting monster hunter. The first two books are about how they get caught in the middle of a vampire war."), then the jokey punch line ("It's like Ellen Page and Salma Hayek in a Hellboy move.").
Intrigued, she wanted to know more. I told her the story of my pleasant encounter with a concerned father at Baltimore Comic Con, when his 11-year-old daughter bought Blood Feud, and followed it up with an explanation of Pan's characteristics and motivations.
"Wow! That all sounds fantastic," she said.
I smiled. "Thanks."
"Is the woman who wrote the book here?"
Er…
I pointed to the cover byline, then to my badge. Her eyes grew wide.
"Oh, it's you! But you… "
Are a dude?
"You get it!"
Apparently I do; I've heard similar comments from other women, who've expressed amazement at how a middle-aged guy can express the inner thoughts of a complicated teenaged girl so well.  I can't figure it out, either, to be honest. It just happens.  😀
That woman bought a copy of Blood Feud, by the way. Another satisfied Pan-atic!
Meet the Press
"Hi," the man said, and introduced himself. "I'm working on an article for a romance Web site and I'd like to talk with you about how women are portrayed in this book."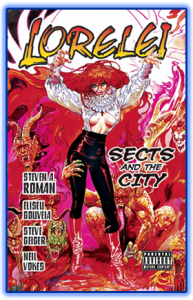 Inwardly I groaned. He had to mean the graphic novel Lorelei: Sects and the City. I've been getting grief over that character for years—she's pornographic, she's objectified, she's an unrealistic physical portrayal of a woman—usually from critics who'd never read the material and reached their politically correct conclusions based solely on the covers, or who didn't understand/care for the kind of horror stories I was trying to tell. I thought I was past those days, but apparently not. The last thing I needed was bad press.
I quickly launched into a description of the plot, the concept of the book being a tribute to 1970s horror comics like Vampirella, the strength of the character. See? I was practically saying. If you look closer you'll understand it's not porn.
"Oh. Okay," he said when I was done. "But I meant the other book." And pointed at Blood Feud.
That one? Oh, hell, then lemme introduce you to the woman who wrote the book…  😉
When I was done with my mini-lecture on Ms. Zwieback, he looked impressed. "You put a lot of thought into that character." I nodded. "Maybe we should do an article on just her alone…" He handed me his card and promised to get in touch.
He was followed by another reporter, this one working on an article titled "The 5 Coolest Superheroines at New York Comic Con." By the time I finished explaining Pandora to her, she was considering an expansion of the article's roster…
The Artist in Residence
Around 3:30, The 'Warp hosted its first official signing, with the arrival of Steve Geiger—one of the artists for Lorelei: Sects and the City—and his fiancée, Kristie. (Sorry if I misspelled that!) And as usually happens with such events, sit an artist at a table and he's gonna draw a crowd. In fact, Steve already had one fan standing by to meet him!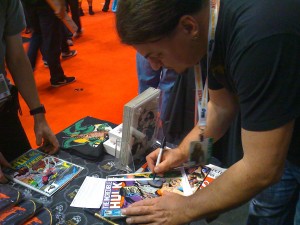 Henrik had brought along a stack of Steve's Incredible Hulk comics, and asked him to sign them, which Steve was more than happy to do. Henrik then asked if Steve was willing to do a sketch. "Sure!" Steve said. "But you have to buy a copy of the book I'm here to promote." And pointed at Sects and the City.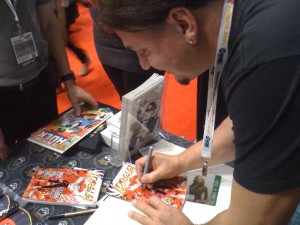 Sold! In fact, while he was signing Henrik's copy another fan bought his own for Steve to sign. Hey, maybe I should have these artist-guys show up more often—they seem to draw crowds…  😉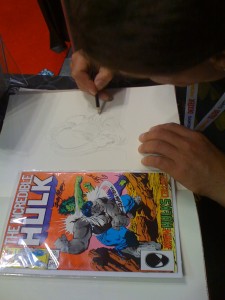 Then Steve got to work on the sketch: a head shot of the Hulk's old pal, Rick Jones, after he'd turned into a Hulk himself. Even in the rough pencils you can tell that Rick-Hulk is one angry dude.
And there's the end result. Nice, huh? Now you know why I hired him for Lorelei; I thought he showed a lot of promise as an artist. 😀 (Yeah, okay, so Marvel hired him first, and there was that period when he was their art director, but so what? He was at NYCC to promote The 'Warp!)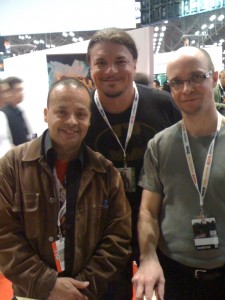 And here's Steve (center) with his first two fans of the con. Before you knew it, though, the day was over and it was time to head for dinner. Saturday was over, and we'd all survived!
Tomorrow: Is It Over Yet?