Not the best start to my day: three 9-hour days of being "on" for con-goers + not getting enough sleep = a very grumpy hour and a half to start the last show day. I just want this thing over already, but I've got another seven-hour day ahead of me. Still, around 11:30 I come out of my funk and get back to work.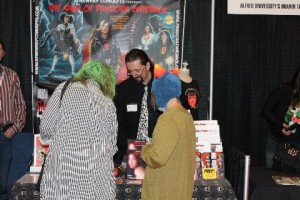 Sales today run extremely slow. Sunday's not always the best time for exhibitors because: a) most every attendee has spent their con money over the past three days and now they're broke; b) most everyone's looking for a discount; and c) for NYCC, it's Kids Day, and kids don't have money to spend—they're looking for free stuff. As evidenced by one boy who picked up a Pan T-shirt and asked, "Is this free?" despite the price sign next to it. Still, Blood Feud, Lorelei: Sects and the City, and Carmilla continue to interest potential readers.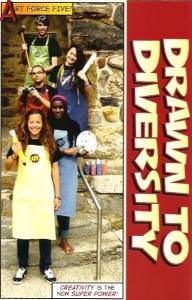 Next door, the students from Alfred University's Drawn to Diversity program have packed up their booth and moved to the Javits Center's lower level, where they're participating in a kids' craft show. For the past three days director Dan Napolitano and his students have been entertaining kids (and some adults) by showing them how to make their own superhero action figures with clothespins, pipe cleaners, and pieces of fabric for capes, while explaining the program's goal "to teach history, inspire artists, cultivate dialogue, and fight ignorance using popular art and media forms." Considering how busy the booth was, I can only imagine how overwhelming the craft fair must have been for them on Kids' Day!
Drawn to Diversity's absence leads to an unexpected plus. I ask if I can borrow their booth for an hour to accommodate Steve Geiger, who has another Lorelei signing scheduled in the afternoon, and Dan says I can have the booth because they're done with it: "If you want, go ahead and move the pipe-and-drape between us so you can spread out." Well, that was mighty neighborly! And when Steve arrives that's exactly what we do.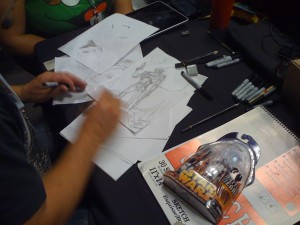 It didn't take him long to have his first customer of the day. "Can you draw a stormtrooper?" a young boy asks him, and shows Steve a Star Wars: Revenge of the Sith action figure. Steve gets right to work to meet his request. And if you take a closer look at the photo, you'll see another sketch Steve had been working on before the Star Wars kid came along—one of a certain teenaged Goth girl who might be familiar to 'Warp fans…  Can't wait to see the final, Steve!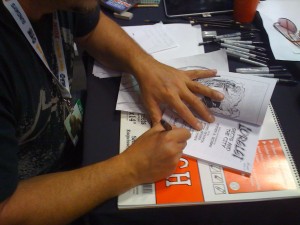 Of course, Steve was really there to promote Lorelei, so whenever a copy was purchased he put aside his pencils to add his signature to the title page. (That Lori-and-zombie frontispiece is by the late Tom Sutton, by the way, who was Vampirella's first artist, way back in the Warren Publishing days.)
And then five o'clock rolled around and the lights of the Javits Center began going dark as the loudspeaker announcement was made that the show was over. Over! Another four-day marathon survived! Time to pack up and go home, and try to catch up on much-needed sleep.
So, there you have it: New York Comic Con 2012, as experienced by the guy who runs this horror madhouse. A round of applause goes to Rich White, Dave De Mond, J. D. Calderon, and my brother Frank, who all pitched in to help to keep The 'Warp on track while I juggled conversations with readers new and old, reporters, and the legions of passersby who wanted to know what was going on with that Goth chick on the banner. Thanks to Steve Geiger and his fiancée Kristie for making the long trip from Upstate New York to promote Lorelei: Sects and the City. And, of course, thanks to all the Pan-atics and 'Warp fans who came out to offer words of encouragement.
We'll see you all next year!