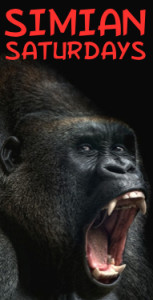 Welcome back to Simian Saturdays, a series of reviews that examine the movies (and other media) that focused on King Kong, the giant monkey who's captured generations of monster fans' hearts. It's part of our promotion for King Kong, the latest addition to our Illustrated Classics library that's currently on sale.
King Kong is an e-book exclusive that reintroduces monster fans to the 1932 novelization of the original movie classic. Written by Delos W. Lovelace, based on the story by Edgar Wallace and Merian C. Cooper and the screenplay by James A. Creelman and Ruth Rose, it includes scenes that didn't appear in the final cut of the film—including the notorious "spider pit" sequence in which Kong's human pursuers are attacked by horrific arachnids and insects. Our version features six original black-and-white illustrations by comics artist Paul Tuma, whose pulp-influenced style has appeared in the pages of The Twilight Avenger, Flare, and Dan Turner: Hollywood Detective.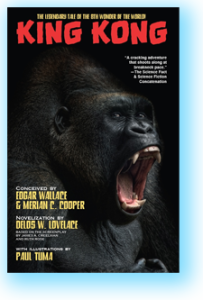 Not familiar with the beauty-and-the-beast story of Kong and his "love interest," Ann Darrow (who was played in the 1933 original by the queen of the scream queens, Fay Wray)? Well, here's our edition's back-cover copy to bring you up-to-date:
Ann Darrow was a down-on-her-luck actress struggling to survive in Depression-era New York when she met moviemaker Carl Denham. He offered her the starring role in his latest film: a documentary about a long-lost island—and the godlike ape named Kong rumored to live there. Denham needed a beauty as a counterpart to the beast he hoped to find, and Ann was the answer to his prayers.
Mystery, romance, a chance to turn her life around, even the possibility of stardom—to Ann, it sounded like the adventure of a lifetime! But what she didn't count on were the horrific dangers that awaited her on Skull Island—including the affections of a love-struck monster . . .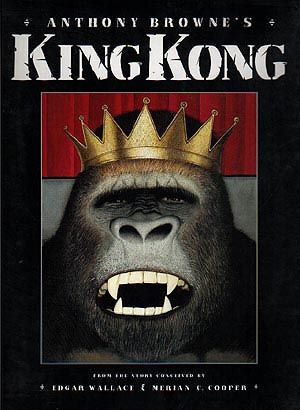 Today we're paging through Anthony Browne's King Kong, a children's storybook published in 1994 by Turner Publishing, Inc. It's writer/artist Browne's adaptation of the original story by Wallace and Cooper, somewhat simplified for younger readers.
It's a straightforward retelling presented with full-color illustrations—but it's an adaptation not so much of the original story but of Delos Lovelace's novelization (the very same novelization SWC has now published), incorporating touches of the deeper characterization found in that book. It also takes its visual cues from the film, with some images Browne's interpretations of certain screen moments. The art is wonderful, with New York's Art Deco architecture and Skull Island's lush jungle reproduced in all their glory, and Kong as powerful and scary and sad as his ultimately tragic story dictates.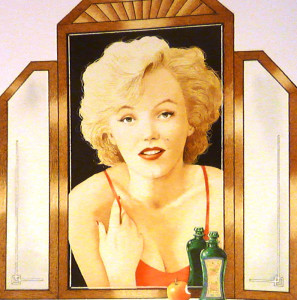 The one visual hiccup in the book is that of Kong's romantic interest, Ann Darrow, who was played so memorably by Fay Wray that her name became synonymous with the film. Browne, however, recasts the role with 1950s icon Marilyn Monroe (a perfect likeness, right down to her mole), which, in all honesty, creates an unnecessary distraction from the story. (Trust me, I'm not the first reviewer to point out this quirk.)
Monroe's posthumous involvement aside, I was surprised more by the amount of violence that carried over from the movie to a book for young readers. Since it's still in print, it must make for interesting bedtime readings…
" 'Jack grabbed a vine and climbed down the ravine, where he hid in a shallow cave…. The rest were trapped as Kong lifted the log and swung it back and forth. The terrified men desperately tried to hold on as long as they could, but one by one they fell screaming to their deaths.' Okay, honey, sleep tight! See you in the morning!"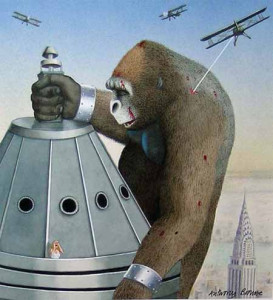 There are also the images of a bleeding, bullet-riddled Kong atop the Empire State Building, the text for one in particular making it clear that the strafing biplanes shot him in the throat.
Yipes.
Still, this adaptation has nothing on the sheer WTF-ery of the 2004 children's book version of Stephen King's The Girl Who Loved Tom Gordon (a pop-up book, even!). That one is straight-up nightmare fuel; Browne's Kong is quaint in comparison.
Bottom line? If you're a grown-up monster kid, or have a monster kid of your own, track down a copy of Anthony Browne's King Kong—a paperback edition was published in 2005 by Picture Corgi. As a kids' book it might make for questionable bedtime reading, but as a tribute to the original Kong it tells the story well…well, except for the whole shoving Fay Wray out of the picture thing, of course.
Coming Next Saturday: It's another pictorial adaptation of the original Kong—this time in comic book form! Join us as we take a look at Giant Classic King Kong, the supersized comic by artist Alberto Giolitti that was published by Whitman Comics in 1968. If you like your comic art old school and your giant monkeys colored blue (whaaat?), then don't miss the next installment of Simian Saturdays!
King Kong (the SWC version) is now on sale. Visit its product page for ordering information.