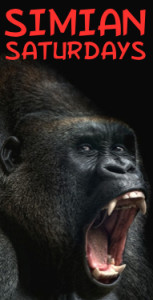 Welcome back to Simian Saturdays, a series of reviews that examine the movies (and other media) that focused on King Kong, the giant monkey who's captured generations of monster fans' hearts. It's part of our promotion for the latest addition to our Illustrated Classics library: the e-book-exclusive edition of the 1932 novelization of King Kong, which is on sale right now.
Written by Delos W. Lovelace, based on the story by Edgar Wallace and Merian C. Cooper and the screenplay by James A. Creelman and Ruth Rose, it features scenes that didn't appear in the final cut of the film—including the notorious "spider pit" sequence in which Kong's human pursuers are attacked by horrific arachnids and insects. What makes our version special is that it contains six exclusive, original black-and-white illustrations by comics artist Paul Tuma, whose pulp-influenced style has appeared in the pages of The Twilight Avenger, Flare, and Dan Turner: Hollywood Detective.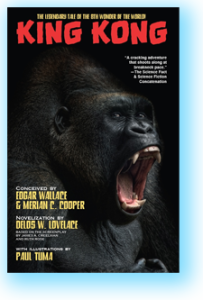 Not familiar with the beauty-and-the-beast story of Kong and his "love interest," Ann Darrow (who was played in the 1933 original by the queen of the scream queens, Fay Wray)? Well, here's our edition's back-cover copy to bring you up-to-date:
Ann Darrow was a down-on-her-luck actress struggling to survive in Depression-era New York when she met moviemaker Carl Denham. He offered her the starring role in his latest film: a documentary about a long-lost island—and the godlike ape named Kong rumored to live there. Denham needed a beauty as a counterpart to the beast he hoped to find, and Ann was the answer to his prayers.
Mystery, romance, a chance to turn her life around, even the possibility of stardom—to Ann, it sounded like the adventure of a lifetime! But what she didn't count on were the horrific dangers that awaited her on Skull Island—including the affections of a love-struck monster . . .
Today we're turning our "listening ears" (as Judge Judy likes to say) to King Kong: The Original RKO-General Motion Picture Classic, an audio adaptation produced by children's story-record company Wonderland Records and released in album form in the late 1960s or early 1970s (the exact date is unknown).
Adapted by Cherney Berg and directed by actor Daniel Ocko, this version of King Kong is narrated from the point of view of Captain Englehorn (voiced by Ocko), commander of the tramp steamer Sumatra (as opposed to the Wanderer in the Lovelace novelization and the Venture in the film) and a character played by Frank Reicher in the 1933 film and its sequel, Son of Kong. Ocko is joined in this "radio-style play" by fellow radio-drama veterans Elaine Rost (Suspense, Adventures of Frank Merriwell) as Ann Darrow and Ralph Bell (CBS Radio Mystery Theater, Cloak & Dagger) as Carl Denham, and by soap-opera regular Nat Polen (As the World Turns, One Life to Live) as Jack Driscoll. The four actors also play other characters.
The trip to Skull Island is leisurely paced—the ship doesn't arrive until close to halfway through—and Kong doesn't make the scene until the twenty-minute mark. That means things move quickly from that point on to squeeze the movie's 104-minute running time down to thirty-six minutes; considering that side 1 of the album is titled "The Journey to the Island" and side 2 is "The Capture, Triumph, and Death of King Kong," it should give you a good indication of how quickly the Skull Island and New York sections of the story are run through. It also requires Englehorn's involvement in Ann's Skull Island rescue party and Kong's New York rampage to maintain the narration, even though in both the book and the movie he's involved in neither. The one break with this approach comes when the Army pilots strafing Kong are involved—something Englehorn couldn't be a participant in—but he's back soon enough to wrap up the story of beauty and the beast.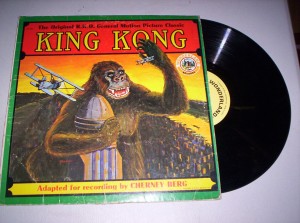 And yet it all works. Making Englehorn the lead brings a fresh perspective to a story normally focused on the Kong-Ann-Driscoll love triangle, and Ocko's German-accented captain makes for an extremely engaging narrator. There's also a charming quality to the interplay between the characters—well, right up to the moment that Denham and Driscoll get into a brawl over Ann (a scene original to this version of the story). And Rost does a good job of matching Fay Wray's decibel levels when it comes to screaming in horror.
Bottom line? King Kong: The Original RKO-General Motion Picture Classic is long out of print, and Wonderland Records shut down in the early 1980s, but you can still track down copies of the LP online, or you can visit the Internet Archive, where the file has been posted for free download. (Note: It's misidentified as a 1938 radio play.) Give it a listen; it's a pleasant way to pass a half hour.
King Kong (the SWC edition) is available right now for download, so visit its product page for ordering information.
Coming Next Saturday: Are you a music buff? Do you love orchestral movie sound tracks? Then join us us next time for the final installment of Simian Saturdays as we listen to the music that helped bring a stop-motion-animated monkey to life, with King Kong: The Complete 1933 Film Score by Max Steiner! See you then!