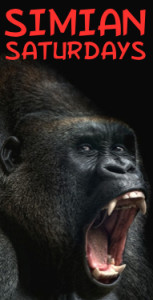 Welcome to a special installment of Simian Saturdays, a series of reviews that examine the movies (and other media) that focused on King Kong, the giant monkey who's captured generations of monster fans' hearts. It's part of our promotion for the latest addition to our Illustrated Classics library: the e-book-exclusive edition of the 1932 novelization of King Kong, which is on sale right now.
Written by Delos W. Lovelace, based on the story by Edgar Wallace and Merian C. Cooper and the screenplay by James A. Creelman and Ruth Rose, it features scenes that didn't appear in the final cut of the film—including the notorious "spider pit" sequence in which Kong's human pursuers are attacked by horrific arachnids and insects. What makes our version special is that it contains six exclusive, original black-and-white illustrations by comics artist Paul Tuma, whose pulp-influenced style has appeared in the pages of The Twilight Avenger, The Green Hornet, and Dan Turner: Hollywood Detective.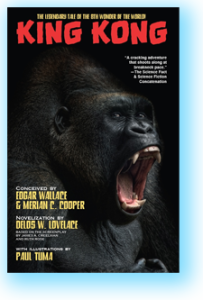 Not familiar with the beauty-and-the-beast story of Kong and his "love interest," Ann Darrow (who was played in the 1933 original by the queen of the scream queens, Fay Wray)? Well, here's our edition's back-cover copy to bring you up-to-date:
Ann Darrow was a down-on-her-luck actress struggling to survive in Depression-era New York when she met moviemaker Carl Denham. He offered her the starring role in his latest film: a documentary about a long-lost island—and the godlike ape named Kong rumored to live there. Denham needed a beauty as a counterpart to the beast he hoped to find, and Ann was the answer to his prayers.
Mystery, romance, a chance to turn her life around, even the possibility of stardom—to Ann, it sounded like the adventure of a lifetime! But what she didn't count on were the horrific dangers that awaited her on Skull Island—including the affections of a love-struck monster . . .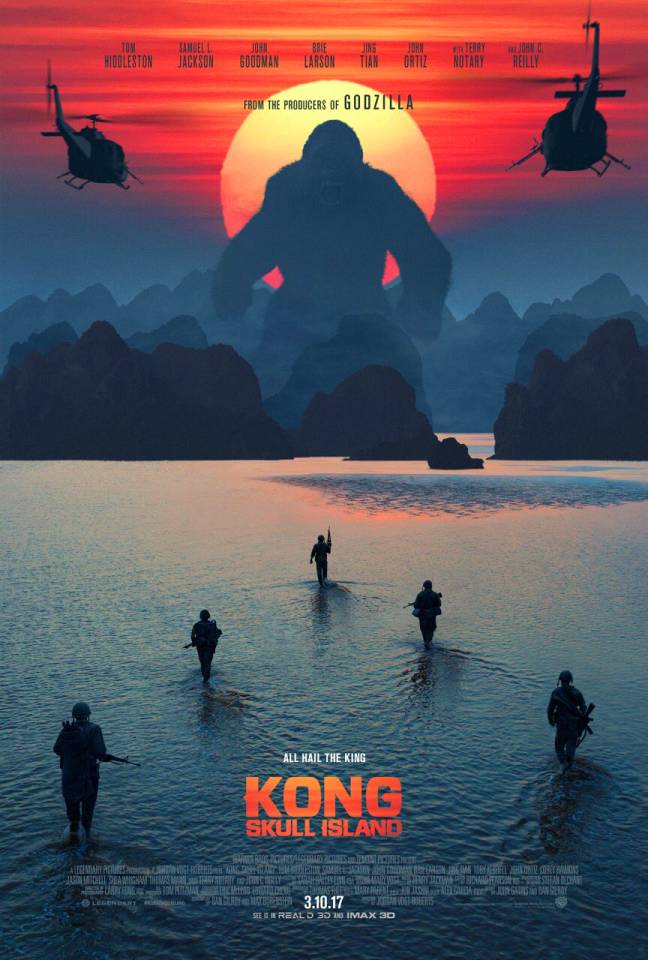 What makes this SimSat entry special is that today we were supposed to be covering the 1968 comic book Giant Classic King Kong—but that was before I spent last Sunday at the movies, watching Hollywood's latest take on the mighty monkey's story: Kong: Skull Island! Here's the spoiler-free review:
The year is 1973, and Monarch—a monster-studying secret organization introduced in the 2014 Godzilla reboot, which makes Skull Island a prequel—is facing the budgetary ax from U.S. lawmakers…unless agent Bill Randa (John Goodman) can provide solid evidence that giant monsters exist. He's certain that proof exists on an island recently discovered by a U.S. satellite, and talks his way into getting his team included on the land-surveying expedition that's heading there. Joining Randa are professional tracker/former British special-forces member James Conrad (Tom Hiddleston); photojournalist Mason Weaver (Brie Larson); seismologist Houston Brooks (Corey Hawkins), who's also Randa's assistant; and Lieutenant Preston Packard (Samuel L. Jackson), who's in charge of the military unit assigned to protect the expedition.
Skull Island is just as deadly a place as it was in the original Kong and the 2005 remake, only there are no dinosaurs roaming its jungles, replaced by mammoth nightmare lizards called skullcrawlers—at least that's the name given to them by Hank Marlow (John C. Reilly), a WWII fighter pilot who's been stranded on the island for thirty years. He admits the name sounds stupid when said out loud, but hey, it's John C. Reilly—he makes stupid sound awesome. But the deadliest threat, naturally, comes from Kong.
Unlike the Godzilla reboot, which suffered from a severe lack of Big G presence until the final battle, director Jordan Vogt-Roberts (The Kings of Summer) doesn't take too long in getting us to the giant-monkey action; if you saw the trailers, you're familiar with how violently Kong greets the team when it reaches the island: by smashing their helicopters out of the sky. From that point on, it becomes a race against time with the survivors needing to reach a pickup site so they can be rescued—if they can make it past Kong and the skullcrawlers and the other dangers of Skull Island.
The cast is top notch, with Goodman and Reilly being the standouts, but it's Kong you're really there for, and at a hundred feet tall (and apparently still growing) he's the badass super gorilla you'd hope to find in a giant-monster movie. Then there are the Easter eggs sprinkled throughout the film, including a big one that ties directly to the Delos Lovelace novelization of the original Kong—the very book that's currently available from us in digital form! And yes, there's a post–end credits scene that sets up the next MonsterVerse film, Godzilla: King of the Monsters (coming in 2019), so be sure to stay in your seat after Skull Island's final scene.
Bottom line? I enjoyed the hell out of this movie and plan to see it again—a rarity for me, given today's ticket prices. If you haven't seen Kong: Skull Island yet, and you're a fan of kaiju (giant monster) movies or a lifelong Kong lover, then do yourself a favor and definitely check it out.
Kong: Skull Island (2017)
Starring Tom Hiddleston, Brie Larson, Samuel L. Jackson, John Goodman, and John C. Reilly
Directed by Jordan Vogt-Roberts
Screenplay by Dan Gilroy, Max Borenstein, and Derek Connelly
Story by John Gatins
Produced by Warner Bros. and Legendary Pictures
Coming Next Saturday: Join us as we take a look at that Giant Classic King Kong—the supersized comic by artist Alberto Giolitti that was published by Whitman Comics in 1968—I promised to show you. If you like your comic art old school and your giant monkeys colored blue (whaaat?), then don't miss the next installment of Simian Saturdays!
King Kong (the SWC edition) is available right now for download, so visit its product page for ordering information.