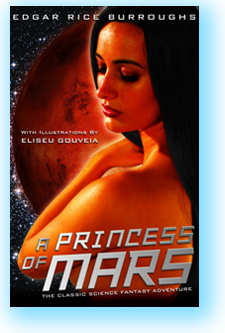 "A Princess of Mars is two-fisted action, with magnificent world building and sweeping story arcs that make it a truly great antecedent in the world of science fiction…. It is a thrilling piece of genre fiction that shows no weathering or cobwebs of age. It is simple adventure at its earliest and best."
—Biblioholic

Captain John Carter thought his days as a fighter were over. The South had lost the Civil War, and as a soldier now without a battle to fight or a cause to believe in, he journeyed west in search of a new life.
But not even Carter could have expected that his new life would begin with his death in the Arizona desert, and his inexplicable arrival on the planet Mars. Or that he would find love in the eyes of the beauteous Dejah Thoris, princess of Helium.
A prisoner of the giant, green-skinned warrior race called the Tharks, Dejah Thoris is meant to be used as a pawn in the ongoing war between the Tharks and her people, the red Martians—unless the gentleman from Virginia takes sword in hand to free her . . . and thus unite a divided world.
Once more, John Carter has a cause to fight for—and this time, a love to win, as well….

 "It's not hard to see the special appeal of the Mars series. Not only do they make for good reading, they're arguably the first multivolume series with a fully-conceived alien setting." —io9
"If you're looking for a full reading experience, with plenty of action, adventure, and even romance, you'd do well to pick up a copy of A Princess of Mars."
—Somebody Dies
"Burroughs is a wonderful storyteller, and it's impossible not to get caught up in the savage beauty of Mars."
—The Silver Key
"Burroughs created a novel that speaks to the sensibilities and tastes of a modern audience as well as it did to the first fans who [in 1912] devoured it in issue after issue of All-Story."
—The SF Site
"With nods to both fantasy and science fiction, A Princess of Mars is a wonderfully realized tale of alien worlds and societies, swashbuckling derring-do, captive princesses, great cities, airships, air factories and even a few devoted pets and animals."
—Iceberg Ink