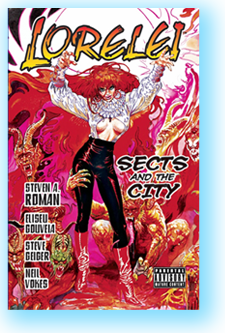 "I can honestly say that I enjoyed the hell out of this book…. The art is solid, the story is full of lots of things that make the horror genre so great, and the overall quality of the book is top notch."
—Die-Screaming
This graphic novel is rated ADULTS ONLY.
DISCLAIMER: Although this graphic novel has received critical acclaim for its character-driven story and elegant artwork (a fact we're very proud of), we ask the reader to please be aware that it also contains some nudity, adult situations and language, and violent scenes. It is not intended for readers younger than 18 years of age.

Introducing a femme fatale sure to steal your heart…and your soul!
The Old Gods are returning. At least that is the intention of the nefarious Cult of Nehalenna and its beautiful, mad high priestess, Rebecca Travers. For decades, the minions of chaos have kept to the shadows, biding their time, waiting for the right moment to strike—and now that time has come. All they need is a rare book, an ancient grimoire that will allow them to summon their otherworldly masters and usher in a new age of darkness.
But standing in the way of the cult's horrific plans is a redheaded succubus named Lorelei. Once human, now the unwilling recipient of supernatural powers, she may be the world's only hope for keeping the old gods at bay. But will the soul-devouring seductress ultimately triumph against overwhelming odds…or become Rebecca's latest sacrificial offering?

"Lorelei, you've cast your spell o'er this guy!"
—Forrest J Ackerman,
creator of Vampirella and Famous Monsters of Filmland
"You sure do pay Warren Publishing a nice tribute. I wish you good luck and good acceptance. I like the graphics, and the story is exciting!"
—James Warren,
legendary publisher of Creepy, Eerie, Vampirella, and Famous Monsters of Filmland
"Steve Roman's Lorelei is sexy, wild, and entertaining! A page-turner with a real punch."
—Elizabeth Massie,
two-time Bram Stoker Award–winning author
"What elevates this comic to another level is author Steven A. Roman's dialogue. The writing is smart and that comes out in the characters…. Gouveia has an elegant [art] style that reminds me of old-school romance comics."
—Horror Talk
"The art was wonderful, and the story itself was entertaining and kept me happily reading until the end…. Suffice to say, Steven Roman and his creative team at StarWarp Concepts should be patting themselves on the back."
—Word of the Nerd
"If you are a fan of old-school horror comics and are looking for an edgy, character-driven story with a strong female lead who does not take herself too seriously, give Lorelei a chance. You will not regret it!"
—Broken Frontier
"From the beginning I was stunned and impressed. The writing and art stand side by side with the best I've seen from the Warren magazines. Phenomenal work!"
—Louis Small Jr.,
acclaimed artist of Vampirella and Lady Death
"You have a supernaturally-powered heroine programmed for evil instead using her powers to do good and take out the bad guys in an act of redemption. In essence: Lorelei is Buffy the Vampire Slayer with Angel's internal character arc and guilt. Buffy as the vampire with a soul, if you will."

—Marc Mason, columnist