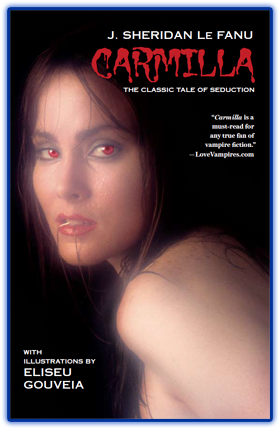 One hundred and forty-five years ago, J. Sheridan Le Fanu's classic vampire tale, Carmilla, debuted in serialized form in the pages of the magazine Dark Blue—running from the December 1871 issue through March 1872—and was then reprinted in Le Fanu's short story collection, In a Glass Darkly, published later that year.
If you're unfamiliar with what's probably Le Fanu's most famous work, here's the back-cover copy from the edition that we published in 2010, which has become the most popular title in our Illustrated Classics line:
Before Edward and Bella, before Lestat and Louis, even before Dracula and Mina, there was the vampiric tale of Carmilla and Laura.
Living with her widowed father in a dreary old castle in the woods of Styria, Laura has longed to have a friend with whom she can confide; a friend to bring some excitement to her pastoral lifestyle. And then Carmilla enters her life.
Left by her mother in the care of Laura's father, Carmilla is young, beautiful, playful—everything that Laura had hoped to find in a companion. In fact, the lonely girl is so thrilled to have a new friend that she is willing to overlook the dark-haired beauty's strange actions…which include a disturbing, growing obsession for her lovely hostess.
Carmilla, it seems, desires more than just friendship from Laura….
The influence of Carmilla on horror fiction has lasted to this day, serving as an inspiration for numerous writers—including Bram Stoker in the creation of the vampire brides who threaten Jonathan Harker in Stoker's seminal novel, Dracula. Carmilla has also been an inspiration for filmmakers—and radio-show producers!
Here's a trio of forgotten pieces of Carmilla's long history—full-cast audio dramas done for terrestrial radio—and, I think, a good way to wrap up not just our Carmilla celebration, but this year's Women in Horror Month, too.
In July 1940, Columbia Workshop aired "Carmilla" in an adaptation by Lucille Fletcher, with Jeanette Nolan (later the voice of Norman's nagging mother, Mrs. Bates, in Alfred Hitchcock's Psycho) as the titular character and Joan Tetzel as her victim, Helen. The action is moved to then–present day New York and the script takes a few liberties with the source material—particularly in that when the drama opens, Helen is already dying. In flashbacks narrated by Helen's father, J.S. Dodge (Bill Johnstone), we learn the events leading up to the opener that closely reflect those in the novella.
It's a strange update of the material, condensed to a half hour, with Carmilla's last name changed from Karnstein to Wood (why?), the ending completely rewritten, and the drama dispensing with the sexual aspects of Carmilla's intentions to focus on her vampiric nature, which turns Le Fanu's creation from a creature who'll literally love her victims to death to a scenery-chewing villainess who ultimately triumphs. You can listen to the episode by visiting the Carmilla episode page at the Fred Allen's Old Time Radio Home website.
Thirty-five years later, in July 1975, the series CBS Radio Mystery Theater presented writer Ian Martin's dramatization. Hosted by actor E.G. Marshall, it stars Marian Seldes as Carmilla and Mercedes McCambridge as Laura Stanton. A framing device is used by which a 90-year-old Laura tells the tale of how in 1905, when she was nineteen, she met the mysterious Carmilla. Surprisingly for the time, it retains some of the sexual overtones of Le Fanu's novella, as Carmilla openly expresses her desire for Laura, and Laura mentions in her opening narration that her "soul-destroying" relationship with Carmilla ruined love for her "for the rest of my life."
McCambridge pulls double duty in this dramatization, as young and old Laura, and accomplishes both well, especially teenaged Laura, even though McCambridge was almost sixty at the time. (The bigger surprise is that, in her film career, McCambridge provided the creepy voice of the demon Pazuzu in The Exorcist!) And Seldes—herself forty-seven at the time—makes a youthful-sounding Carmilla an enthusiastic vampiress, passionate in her love for Laura, who grows increasingly disturbed by the not-so-subtle moves her new friend keeps putting on her.
It's a pretty faithful adaptation that doesn't back away from sexuality or bloodletting, and it's fascinating that Martin could condense Le Fanu's story into a 45-minute episode without it seeming cramped. You can listen to the episode by visiting the Carmilla episode page at the CBS Radio Mystery Theater website.
Finally (where we're concerned), in March 1979 Sears Radio Theater—a series sponsored by Sears, Roebuck and Company—produced its own adaptation, this one written by Brainard Duffield, hosted by horror legend Vincent Price, and starring Antoinette Bower (whom Star Trek fans might remember as the alluring witch Sylvia in the original series episode "Catspaw") as Carmilla and Anne Givin as Amy Forester ("a young lady of quality").
(A little off-topic, but what is it about the name Laura that scriptwriters find so unlikeable when they adapt Carmilla? With the exception of CBS Radio Mystery Theater, she's renamed as Amy for Sears Radio Theater, Helen for Columbia Workshop, Marie for Nightmare Classics, and Emma for The Vampire Lovers. Why the Laura hate, adapters?)
Here, the story moves to post–World War I Vienna, with Carmilla the "niece" of a baroness known to Amy's father. During the course of the drama, we learn that not only is Carmilla a "descendant" of the Karnstein family, but so is Amy, whose late mother was a family member. It doesn't really add anything to the telling, but it doesn't derail the story, either. In terms of the novella's lesbian undertone, scripter Duffield sort of walks a fine line between Columbia Workshop's complete removal of references and CBS Radio Mystery Theater's acknowledgment of Carmilla's intentions as a blood-drinking sexual predator, with Amy dreaming of Carmilla kissing her as she sleeps but avoiding the subject during her waking hours. And Carmilla, it's revealed, isn't looking so much for a lover as a constant companion.
It's a decent adaptation, certainly more in line with its source than Columbia Workshop's version, with Bower giving as much passion to Carmilla's soft come-ons to Amy as the script allows; she might have been better served with a script closer in tone to CBS Radio Mystery Theater's. You can hear the episode in its entirety—including now vintage Sears commercials that tend to be jarring, as they disrupt the gothic mood of the audio drama—by visiting the Sears Radio Theater: Carmilla page at the SFFaudio website.
Bottom line? Of the three dramatizations, I'd say go with the CBS Radio Mystery Theater production. It's closest to the source material and definitely a version that Carmilla fans should listen to.
Carmilla—the SWC Illustrated Classics edition, which features six original drawings by Eliseu Gouveia—is available in print and digital formats, so visit its product page for ordering information.