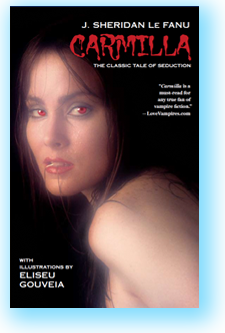 "The way Le Fanu blends together desire and predation is spellbinding. A true Gothic story, filled with dark, atmospheric ruins, high emotion, and blood-drinking revenants, shadowy histrionics, and set in a mysterious, exotic location, Carmilla is great fun."
—Gothic Beauty Magazine
 "Carmilla is a must-read for any true fan of vampire fiction."
—LoveVampires.com

The classic vampire tale of desire, presented with lush illustrations by one of comics' finest artists!
Before Edward and Bella, before Lestat and Louis, even before Dracula and Mina, there was the tale of Carmilla and Laura.
Living with her widowed father in a dreary estate in the woods of Styria, Laura has longed to have a friend with whom she can confide; a friend to bring some excitement to the overbearing serenity of her pastoral lifestyle.
And then Carmilla enters her life.
Left by her mother in the care of Laura's father, Carmilla is young, beautiful, playful—everything Laura had hoped to find in a companion. In fact, the lonely girl is so thrilled to have a new friend that she is willing to overlook the dark-haired beauty's strange actions…which include a disturbing, growing obsession for her lovely hostess.
Carmilla, it seems, desires more than just friendship from Laura….

"Carmilla has had a defining effect on the genre…and it is well worth a read."
—Taliesin Meets the Vampires
"Before Bram Stoker penned the now classic Dracula, Sheridan Le Fanu's vampire established the gothic sensibilities that have come to be associated with the myth… In an age where the vampire is casually accepted and everything explained, Carmilla is a welcome throwback to a time when they were still cloaked in shadow."
—Examiner.com
 "Like many vampire romances, [Carmilla and Laura's] love is doomed and unhealthy, but glorious."
—io9
 "Le Fanu's writing leaps out at you, draws you in, and truly paints a picture."
—Bookish Ardour