Can you believe it? It was exactly forty-five years ago, on January 11, 1972, when Las Vegas reporter Carl Kolchak made his debut in the made-for TV vampire movie The Night Stalker!
Portrayed by veteran character actor and occasional leading man Darren McGavin (whom younger 'Warp fans might better remember as Ralphie's dad, The Old Man, in the now-classic movie A Christmas Story), Kolchak was a down-on-his-luck newspaper reporter in Las Vegas, Nevada, who started out investigating a string of bizarre homicides and eventually found himself playing Professor Van Helsing to a vampire named Janos Skorzeny (played by Barry Atwater, whom Star Trek fans might remember as Surak, the Vulcan philosopher in the episode "The Savage Curtain").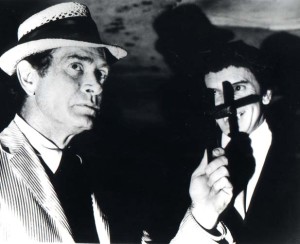 Dragged into this investigation are Carol Lynley (the original Poseidon Adventure) as Carl's girlfriend, Gail Foster, Elisha Cook Jr. (Rosemary's Baby) as Mickey Crawford, Claude Akins (The Twilight Zone) as LVPD sheriff Warren Butcher, and Simon Oakland (the original Psycho) as Carl's explosively tempered boss, Antonio "Tony" Vincenzo. Of this cast, only Oakland/Vincenzo would accompany McGavin/Carl in his other televised adventures: the 1973 sequel movie The Night Strangler, set in Seattle, Washington, and the 1974–75 series Kolchak: The Night Stalker, which moved the action to Chicago, Illinois. (Before the series, a third TV movie, The Night Killers—involving atomic-powered aliens replacing Hawaiian politicians with androids—was scripted but ultimately abandoned, in part due to McGavin's objections to the plotline.)
Kolchak had been created by author Jeff Rice in an unpublished novel titled The Kolchak Papers; the manuscript might not have been able to find a publisher, but it did catch the attention of an ABC executive who bought the TV rights to the manuscript and commissioned a teleplay adaptation from screenwriter and author Richard Matheson (I Am Legend, The Incredible Shrinking Man, Duel). He then contacted producer Dan Curtis—whose love for horror had been well established by his mega-popular TV soap opera, Dark Shadows, which introduced daytime viewers to vampire Barnabas Collins (played by Jonathan Frid)—about directing the movie, but Curtis settled for producing it and hiring John Llewellyn Moxey (The City of the Dead, aka Horror Hotel, and Circus of Fear, aka Psycho-Circus) to direct. Both ABC and Curtis agreed that McGavin was the perfect choice for the role of the world-weary Kolchak.
The result of this perfect blend of talent was that The Night Stalker received the highest ratings of any TV movie at the time—a definite winner for its network, ABC, and the establishment of an iconic character who still has a large number of fans today, including producer Chris Carter, who often stated in interviews that Kolchak: The Night Stalker was a direct influence on the creation of his successful TV series The X-Files.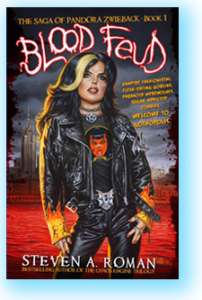 And me. It was my fanboyish love for Carl Kolchak that later played a part in influencing my writing as I moved further and further into creating horror pieces, and it's still evident today, in stuff like my Saga of Pandora Zwieback projects. Like Kolchak, Pan is just a normal person—if you look past her monstervision and healing powers—who has to deal with the extraordinary supernatural threats she encounters. But unlike Carl, the people around her actually believe in the monsters she runs into—because they've had monster problems of their own!
(True story: Waaaay back, when I was in seventh grade, Kolchak: The Night Stalker was everything to me, a show I fanboyishly obsessed over as much as I had when I first discovered reruns of the original Star Trek. That love for the show eventually spilled over into real life, when my classmates gave me the nickname "Kolchak"—and even some of the teachers started calling me by it, when they wanted my attention!)
So thank you, Jeff Rice, for creating Kolchak. Thank you, Dan Curtis and Richard Matheson for successfully translating Rice's creation to the small screen. And thank you, Darren McGavin, for bringing Carl to life. None of these gentlemen might still be with us, but as long as there are horror fans, they, and Carl Kolchak, will never be forgotten.
(Note: The genealogy of The Night Stalker has been updated and corrected, based on my recent viewing of "The Night Stalker: Dan Curtis Interview," a special feature on MGM Home Entertainment's Night Stalker/Night Strangler DVD.)