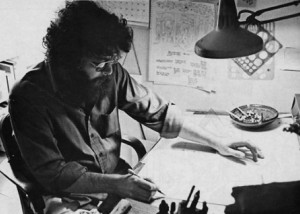 Tom Sutton was one of horror comics' grand masters. Had he not passed away in 2002, today would have been his 78th birthday. I'd like to tell you about my encounters with this artist I'd long admired—he was, as the saying goes, "a real character." Get comfortable; it's a lengthy read.
I was a fan of Tom's work long before I first spoke with him (we never met face-to-face). He was the first Vampirella artist for Warren Publishing. He was an artist on Marvel's Ghost Rider, Werewolf by Night, Planet of the Apes, Godzilla, and the Alice Cooper one-shot in Marvel Premiere #50; drew Star Trek and the original "I, Vampire" serial in House of Mystery for DC Comics, and Grimjack and Squalor for First Comics. And that doesn't even count his many other credits, including numerous stories for Charlton Comics' horror titles and an art portfolio of monsters based on H. P. Lovecraft's C'thulu Mythos (Lovecraft's work was one of his major fan obsessions).
My first contact with him came through (if I remember correctly) a 1989 issue of the tabloid Comics Buyer's Guide, where he ran a classified ad for art pages he was selling—contact him and he'd mail you a list of what was available (this was long before e-mail, of course). So I did. The list was pretty long—Ghost Rider pages, Star Trek pages (he'd been penciling the post–Star Trek II: The Wrath of Khan series for DC), tons of others. So I called the number at the bottom of the list—his home phone—to discuss prices.
It turned into a two-hour conversation about comics and his work. (Apparently, since he lived alone up in Massachusetts, he loved to bend the ear of every caller.) If I'd known I was walking into that, I would've tried recording it. Some highlights:
• He was pissed at Marvel, for whom he'd recently completed a twelve-part Man-Thing serial ("Elements of Terror") for Marvel Comics Presents (vol. 1, #1–12). He'd asked for the return of his art, and someone mailed it back without attempting to protect the pages, or to have them signed for on delivery. The postman left the package on Sutton's porch—in the rain.
• He hated drawing Star Trek—the nagging he received about actors' likenesses was a constant annoyance—although he did have a love for science fiction, but nobody was really publishing horror comics (his real love) anymore. (DC Comics must have been happy enough with his work, though—he not only drew most of the series' 55 issues, but the comic adaptations of Star Trek III and IV, as well.)
• Vampirella publisher Jim Warren liked to push people's buttons. One day Sutton visited the company and Warren pulled him into his office, wanting to show him something. On the desk were Vampirella pages by a Spanish artist named Jose Gonzalez—who, Sutton was told, was going to be his replacement. Sutton's reaction? He shrugged and said, "Well, sure, the guy draws girls better than me." That wasn't the reaction Warren was looking for; he'd expected Sutton to argue. "Why should I be pissed, Jim? The guy draws girls better than me. He's a better fit than me. Let him have it."
• Vampirella creator Forrest J Ackerman partly got the idea for his sexy space vampire from the low-budget sci-fi/horror movie Queen of Blood, which was about a female space vampire coming to Earth. How much of an influence? Ackerman appeared in the movie in a nonspeaking role, as assistant to scientist Basil (Sherlock Holmes) Rathbone!
By the time we were done talking, I'd wound up buying some Ghost Rider pages—most of Marvel Spotlight #12, which introduced the Native American bad girl, the Witch-Woman—for just $25! "I just want this stuff outta my house," Tom said. "It's taking up too much room." An extra $20 would get me an original Vampirella sketch.
Then I decided to take the plunge. If I wanted to commission a piece using my original character, a succubus named Lorelei, how much would it cost? Tom gave a more-than-reasonable price and told me to send him whatever reference material I had. So I did—and the result was spectacular. (You can see it if you purchase a copy of the graphic novel Lorelei: Sects and the City—I used Tom's illustration as the book's frontispiece.)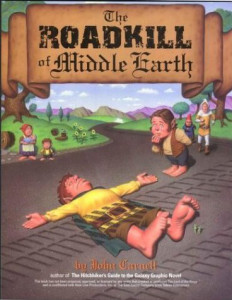 Tom and I didn't talk again until 2001, by which point he'd been abandoned by mainstream comics and (under the pseudonym Dementia) was writing and drawing hard-core pornographic titles for Fantagraphics' Eros Comix imprint. At the time, I was the editor-in-chief of Manhattan-based publishing house ibooks, inc., which was owned and operated by publisher Byron Preiss. One day Byron mentioned his desire to do a parody of J. R. R. Tolkien's masterwork, The Lord of the Rings, in the vein of the Harvard Lampoon's Bored of the Rings, from 1969. What inspired this thought? The upcoming release of The Lord of the Rings: The Fellowship of the Ring, the first in director Peter Jackson's epic three-film adaptation of Tolkien. Byron's idea was The Roadkill of Middle Earth, in which an eighteen-wheeler runs rampant through Tolkien's fantasy playground. Writer John Carnell, who'd adapted Douglas Adams's Hitchhiker's Guide to the Galaxy novels for comics (a project that Byron had packaged for DC Comics) was chosen to write Roadkill, but who could we get to draw it?
"What about Tom Sutton?" I asked.
Byron's eyebrows shot up. "You know where to find him?" I knew Byron would be interested, because he and Tom had worked together a few times back in Byron's early days as a book packager and professional writer; their most well-known collaboration was the 1976 Fiction Illustrated graphic novel Schlomo Raven: Public Detective, a Mad Magazine–style parody of private eye mysteries. The two of them hadn't spoken in decades.
I told him of my contact with Tom back in '89, and that I figured the phone number I had was still good. Byron liked the notion, but wanted to know if Tom could still draw. So I called Tom, reintroduced myself, told him of my association with Byron, and after a one-hour conversation (he liked to talk, remember?) during which he would make the occasional aside to "Buffy," who was in the room with him (it turned out that Buffy was his porn-comic character and he was actually talking to thin air. Yikes!), I asked if he could provide recent art samples. He said he'd be happy to mail me some. "Isn't that right, Buffy?"
When the package arrived a few days later, I opened it up to discover…it was all porn comics. Nasty, hard-core stuff that I couldn't show to Byron; they proved, however, that Tom could still draw, so eventually we got him under contract and Tom did the project. (In later interviews, he admitted how much he hated Roadkill, because he was a fantasy fan and thought it was an insult to Tolkien.)
While we were discussing Roadkill on another phone conversation, I asked Tom if he'd be interested in doing some horror-comic work. I'd recently relaunched Lorelei as a comic series, this time with a design look that paid homage to the Warren Publishing days of Vampirella, Creepy, and Eerie. Warren alumni Bob Larkin, Ernie Colon, Frank Thorne, and Gray Morrow were all involved—would Tom like to join them? Absolutely! he said.
I quickly wrote a script for the first chapter of a new, adult-themed serial involving a female vampire (as a comic writer, you always play to your artist's strengths), and mailed it and a contract to Tom. A few days later, Tom called with questions, particularly about a clause in the contract that stated he would receive his first payment "on acceptance of layouts." In comic terms, that means I'd pay him when he delivered, and I accepted, his rough pencil drawings to show how he would lay out the eight pages. I still include that clause for all the artists I work with—it's to make sure they understand the script I provided, and to see if any revisions are needed before they get the okay to proceed to the pencil stage.
With all the years of illustrating he had under his belt, that was a problem for Tom. Nobody had ever asked him for layouts before. Besides…
"Tommy doesn't do layouts," he growled in a singsongy voice. "Tommy does finished pencils. And then he inks them."
"Uh, okay," I said. "Sure, that's fine." Who was I to argue with a comic-art legend?
Then about a week later, my phone rang. "Go check your fax machine," said a familiar voice. So I did. And there were eight pages of rough layouts in the bin.
Tommy did do layouts, after all.
That's as far as our collaboration went, unfortunately. Tom passed away in May 2002, at age 65, of a heart attack—at his drafting table, while working on some project. But I'm grateful for the opportunities I had to work with him, crazy voices and imaginary porn girls living in his studio and bitchfests and all.
For more on Tom, his life, and his work, head over to The Comics Journal website and give the 2001 interview An Odd Man Out: Tom Sutton a read. And I highly recommend that you pick up a copy of Tom Sutton's Creepy Things, a collection of stories and art that Tom did for Charlton Comics in the 1970s, when he was truly at the top of his horror game. Released by IDW back in January, it's 148 pages of monster goodness and a great tribute to his work.
Happy birthday, Tom! And thanks.