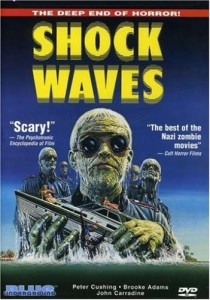 If you're a fan of comic books, or movies, or pulp fiction heroes, Bob Larkin is a painter whose work you recognize immediately; in addition to the covers he's provided for my Saga of Pandora Zwieback novels Blood Feud and Blood Reign, he built a career on painting covers and movie posters for just about every publishing house and film studio for more than four decades. And some of that work has recently been promoted online by longtime fans of his incredible output.
First off, the horror site Camera Viscera shined the spotlight on Bob's movie-poster work, in their latest installment of "Artists Behind the Image." From Roger Corman (New Concorde Studios) to Lloyd Kaufman (Troma Studios), from low-budget horror to Jackie Chan kung-fu classics, Bob painted an amazing number of pieces—like those for Piranha, Piranha 2, Night of the Creeps, and Humanoids From the Deep (aka Monster)—that helped to get cinephiles into theaters. You can check out those and more at Camera Viscera.
Meanwhile, over at YouTube, a German fan going by the name "Jmedia" assembled "Bob Larkin: The Gallery": a video montage of Bob's covers and posters—and even wrote the score for it! Bob was overjoyed to see it (although he did point out to me that one of the pieces shown isn't by him). Go give it a look!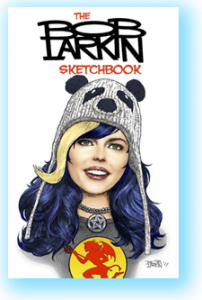 But it's not just his painting skills that are impressive—Bob's also one hell of a pencil artist, as you'll see if you order a copy of SWC's The Bob Larkin Sketchbook. It's a collection of some of Bob's incredible pencil drawings, and what you'll discover when you see them is how wide-ranging his subjects are. Sci-fi, horror, Westerns, pulp adventure, crime fiction, movie merchandise, even wrestling stars—as we say on the book's back cover, there really is little that he hasn't painted. And the sketchbook features three pieces created especially for it: the Pandora Zwieback cover art; a portrait of Patricia Savage, the fightin' cousin of pulp fiction's top-tier adventurer, Doc Savage, the Man of Bronze; and a two-page spread in which Doc faces off against another Golden Age crimefighter—The Shadow!
 The Bob Larkin Sketchbook is available in print and digital formats. Visit its product page for ordering information, as well as sample pages.
 And to see more of Bob's stunning work, pay a visit to his art blog, Bob Larkin: The Illustrated Man.