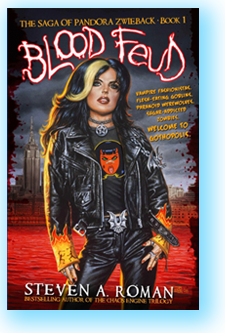 "Far and away one of the best young adult supernatural fantasy novels released in the last few years…. [Pan is] exactly the kind of teen heroine that readers should be standing up and cheering for."
—HorrorNews.net
 "A big-style cinematic vampire and monster hunter shoot-'em-up with a very human, sweet kid caught in the crossfire… but her relationship with her parents and close friends makes the story gold."
—Goodreads

The thrilling debut of a dark urban-fantasy novel series by the bestselling author of X-Men: The Chaos Engine Trilogy!
Pandora Zwieback is a 16-year-old Goth girl who's just discovered that her New York City hometown is the stalking ground for every creature of the night out to raise a little hell (literally!). Problem is, she thinks she's the only one who can see them, which means she can't tell her friends or family about the dangers around them—not unless she wants to spend the rest of her life locked up in a psychiatric ward.
But before Pan has a chance to make sense of her increasingly weird life, she finds herself in the middle of a war among rival vampire clans! Elegant Gothic Lolitas from Japan on one side, silk-suited London vamps on the other, leather-clad hunters from Europe in the middle, and all after the same prize: a mysterious crate recently delivered to the horror-themed museum owned by Pan's dad. What is its terrifying secret—and will Pan survive long enough to find out?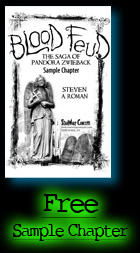 "A fun and very much recommended read that shouldn't be overlooked."
— Midwest Book Review
"One of those fabulous books that manages to straddle the young adult/adult fiction divide… catering equally for teens and more, ahem, 'mature' readers alike with a light touch that makes it a joy to read."
— BCF Book Reviews
 "A young adult book that does the all-important job of translating well to an adult audience…. Definitely recommended for the target audience (and us readers who are that little bit older)."
— Taliesin Meets the Vampires
"Well written… This modern-day Goth horror will have readers turning the pages to discover how Pandora comes to terms with a very old problem: encountering the monsters among us!"
— Gothic Blend
"This book absolutely sucked me in and didn't let me go! The characters are beautifully developed and relatable…. No matter what genre you're into, Blood Feud has something to offer any reader of any age."
— Krypto Dies!
"Charmingly fun, addictively energetic, explosively violent and almost terminally endearing. Oh, and highly recommended."
— Sci-Fi Saturday Night