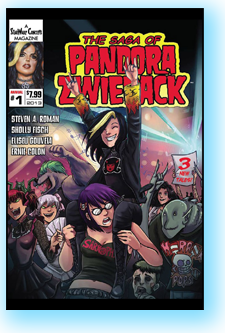 "Steven A. Roman demonstrates yet again his ability to write in the voice of a teenage girl without resorting to the petty whining and needless angst that seem to plague a lot of the female teenage characters in books today… I would readily and heartily recommend this comic to anybody."
—Word of the Nerd 

Pan's first full-length comic book adventure! Following the events of Blood Feud and Blood Reign, Pan tries to get her chaotic life back in order by going on her first official date with her new boyfriend, Javier Maldonado. But that's really hard to do when she joins Javi at one of his family's picnics and runs into trouble with an overprotective, holy-water-wielding aunt who's not keen on her nephew dating a Goth chick.
Then, as if Pan needed any more drama, one of Javi's ex-girlfriends shows up to make matters even worse—and she's got a terrifying secret! Stupid mythological siren…
Featuring "Song of the Siren," written by Saga of Pandora Zwieback author Steven A. Roman, with full-color art by Eliseu Gouveia (Lorelei: Sects and the City, The Saga of Pandora Zwieback #0), this special includes: "After Hours," a short tale of the Paniverse by writer Sholly Fisch (Action Comics, All-New Batman: The Brave and the Bold) and comic-art legend Ernie Colón (Amethyst, Princess of Gemworld); and "Shopping Maul," a Pan short story by Roman, about (blood) red-tag sales and Elegant Gothic Lolita vampires, with title page art and color by Elizabeth Watasin (Charm School, The Dark Victorian).

"In the Saga of Pandora Zwieback Annual, Roman mixes young adult fantasy with some themes like 'young love' but also with equal parts of female empowerment and lets Pandora be a real and true voice. More important is the FUN factor of the book, and while it might be aimed towards young adults, each page is literally a joy for the eyes and for the mind."
—Comics for Sinners
"Pan is snarky and smart. She loves her friends and she loves her parents even more, and she believes that even when things suck the most, eventually they will get better again."
—HorrorNews.net
"Pan is so three-dimensional that you feel you've known her your entire life."
—Krypto Dies!
"Pan is a strong, in-depth character I instantly liked and related to.  I would love to be friends with Pan."
—Fiction Fascination
"Pandora is cooler than Buffy, tougher than the emo wimps in Twilight."
—The Sexy Armpit