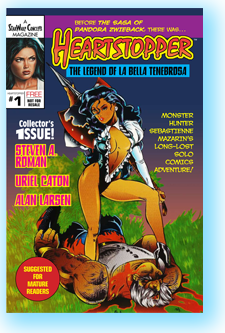 "Sebastienne is a great character who will have you on your toes. She will entice you into her world."
– Jazma Online

A rare look into the past of monster hunter Sebastienne "Annie" Mazarin. Long before The Saga of Pandora Zwieback; Annie was the star of her own short-lived "bad girl" comic, Heartstopper. And now you can read all three issues – including the never-before-published third issue – for free!
A nefarious heavy metal band has arrived in New York City, and its lead singer is more than just a sex magnet for his female fans – he's an incubus: a soul-devouring sexual demon with a voracious appetite. Will Annie put an end to his plans for worldwide chaos, or fall prey to his supernatural charms?
Featuring pencil art by Pan and Annie's co-creator, Uriel Caton (JSA Annual #1, Ex-Mutants, Starlight, The Outer Space Babes).