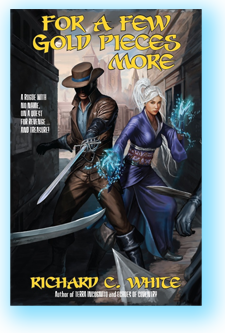 A collection of thrilling epic-fantasy adventures, by the author of Gauntlet: Dark Legacy: Paths of Evil and Terra Incognito: A Guide to Building the Worlds of Your Imagination!
"Entertaining, old-school sword and sorcery, in the tradition of Fafhrd and the Gray Mouser."
—Jim C. Hines
author of the Magic ex Libris, Jig the Goblin, and The Princesses series

For the right price, he'll get you out of trouble. Cross him, and you'll never pay enough.
It's amazing what you learn, living on the run.
Fleeing for my life, convicted on trumped-up charges, and denied the use of my own name, I've stayed one step ahead of the Imperial Guard by focusing on one thing: taking care of myself first. So, I don't know where you heard the ridiculous rumor about me helping people here and there around the Empire. And if, and that's a big if, it was me, there was something in it for me. Trust me on that.
In the various towns and villages I've visited over the years, I've seen depravity, cruelty, torture, greed, lust—and that's just the humans. Trust me—compared to them, the creatures that haunt the edges of the Empire are more honest and trustworthy. At least they're not trying to slip a knife into your back . . . usually.
Only a few things have been constant while I've been on the run. My desire for revenge against the person who framed me all those years ago tops the list. Weird things happening in quiet villages, dark forests, or icy mountains never seem to change. And third?  Well, that would be my luck.
I can always count on it to be bad.

"Richard C. White knows how to spin a yarn. These stories do not disappoint."
—Bobby Nash, author of Evil Ways, Domino Lady: Money Shot, and Alexandra Holzer's Ghost Gal: The Wild Hunt
"What a fantastic ride! If you like sarcasm and snark reminiscent of Harry Dresden, good doses of magic, treachery, and myth, this is the book for you."
—Goodreads
"Richard C. White knows how to write a story! Well paced and flowing nicely…this is a sign of a an awesome writer."
—Goodreads, on "The Demon's Head"
"A great read that had the main character learning that he is a better man than what he thinks he is. I enjoyed this story … It was easy to visualize the characters and find yourself rooting for them. I have no problem recommending this book to those that like this genre."
—Drue's Random Chatter's & Reviews, on "Sword of Fate"
"The perfect choice for anyone who loves surprises."
—Long and Short Reviews, on "Shades of Blue"