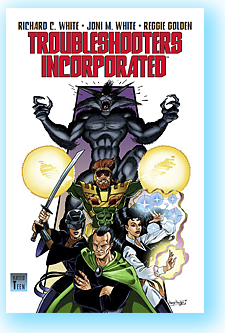 "Long before [The Walking Dead's] Robert Kirkman created The Astounding Wolf-Man, there was Nightstalker, the werewolf superhero…. In many ways, Troubleshooters, Incorporated was ahead of its time, coming before the dawn of [Hellboy spinoff] B.P.R.D. and DC Comics' Justice League Dark."
—Horror Talk

Leaky faucet? Call a plumber. For real problems, call Troubleshooters, Incorporated, the world's first supernatural superhero team-for-hire. For the right price, Silver Oak (a wizard), Night Stalker (a werewolf), Yolanda (a sorceress), Shadowmist (a female ninja), and Lightshow (a hi-tech-armored roadie) are ready to take your case.
Edward Vanderland II is exactly the kind of client TSI is looking for as their first assignment: a millionaire threatened by evil spirits, he's offering $50,000 for protection. Sounds like a simple enough job for a band of fledgling heroes. Maybe too simple.
As it turns out, Vanderland's enemies – perhaps even Vanderland himself – are a lot more dangerous than the Troubleshooters were expecting. Why, if matters get any worse, they might just have to adjust their billing . . .

"A very good spin on the tried and true 'good-guys-for-hire' formula. All in all, an enjoyable read that I would recommend to anyone."
—Word of the Nerd
"I truly feel that you have fun doing your work . . . I enjoyed it thoroughly."
– Sean McKeever, writer of Teen Titans, Spider-Man loves Mary Jane, and Fear Itself: Youth in Revolt
"I really liked Troubleshooters. The concept of a team of supernatural heroes is cool."
– Perry Lake, creator of Cassiopeia the Witch