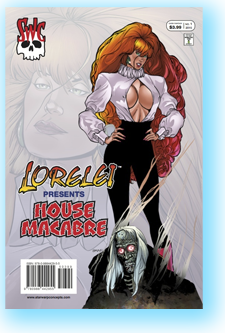 "Move over, Elvira and Vampirella…the new face of horror anthology comics is here!"
—The Pullbox

Join the soul-stealing femme fatale as she hosts her first comic anthology, in celebration of her 25 years as SWC's first lady of horror!
This chilling one-shot special features cover art by Louis Small Jr. (Vampirella, Supergirl) and contains:
"The Old, Dark Manse," an introduction starring Lori, written by Lorelei: Sects and the City author Steven A. Roman, with pencil art by Uriel Caton (JSA Annual, Heartstopper: The Legend of La Bella Tenebrosa) and inks by "Chainsaw" Chuck Majewski (Harvey Kurtzman's New Two-Fisted Tales).
"All in Color for a Crime," by Steven A. Roman and artist Lou Manna (Young All-Stars, T.H.U.N.D.E.R. Agents). Toby Bartlett is obsessed with comic books. And when someone beats him to a rare collectible, then that kid better beware—or should Toby be the one fearing for his own safety…?
"Requiem for Bravo 6," by Dwight Jon Zimmerman (Web of Spider-Man, Transformers) and artist Juan Carlos Abraldes Rendo. A special-ops team on a mission of life and death! Will they succeed in carrying it out—and if so, what will be their ultimate fate?
Plus: "The Basilisk," a "Lori's Feary Tale" written by Roman and drawn by John Pierard (Graphic Classics, My Teacher Fried My Brain). If a rooster and a snake did the horizontal mambo, would it produce such a hideous progeny as the basilisk? And what could possibly kill it?

"This is like a cross between Elvira and House of Mystery, where you've got a very sexy hostess who loves the Macabre and tells you stories that are supposed to chill and thrill you…. This whole book is such a pleasant surprise, [and] something that should be sought out by everyone."
—Reading With a Flight Ring
"Any fans of the old-fashioned horror anthology comics (Eerie, Creepy, Tales From the Crypt, etc.) is gonna want to take a look at this one-shot from StarWarp Concepts…. If campy horror fun is your thing, this should be a hit for you."
—The Pullbox
"Lorelei likes her frights with a little fun…. If you liked Lorelei: Sects and the City, you'll dig House Macabre. This gives us just a little taste of more Lorelei, which is always a good thing."
—Horror Talk
"Lorelei is a gal you need to meet!"
—The Phantom of the Movies' VideoScope
"Lorelei is so full of life and enthusiasm…. [She] is a succubus who will steal your soul and your heart, too."
-Jazma Online
"Bravo for 'Requiem for Bravo 6' by Dwight Jon Zimmerman and Juan Carlos Abraldes Rendo. A terrific story that pulled me right in and sent goose bumps galore for five minutes after I read the twist at the end. Heart-tugging and compelling and makes you think."
—Kathleen M. Rodgers, author of The Final Salute and Johnnie Come Lately