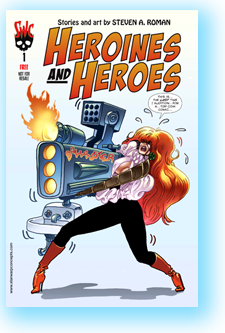 A collection of comic stories and pinups all drawn by Steven A. Roman—creator of Lorelei and author of The Saga of Pandora Zwieback—dating back to his days in the early 1990s small-press movement!

In Heroines and Heroes you'll find:
"V-A-C-A-T-I-O-N (in the Summertime)": A Wonder Woman vs. Harley Quinn story written and drawn in the late 1990s as a sample for a DC Comics editor who thought Steve's style might be a good fit for their Batman: The Animated Series comic (unfortunately, it didn't work out).
"Dirty Laundry": Jeff Wood's small-press rabbit-eared superspy stars in this tale of mistaken identities and James Bond-ian criminal organizations, written and drawn by Steve.
"I Was a Super-powered Vampire Slayer!": An adventure of the indie superheroine The Blonde Avenger, as she travels to a local comic convention and crosses paths with someone she thinks is…a vampire?!
Plus: Pinups of popular comic book characters, and three pages from the long-canceled indie comic Motorbike Puppies—Steve's first professional comic-art job!